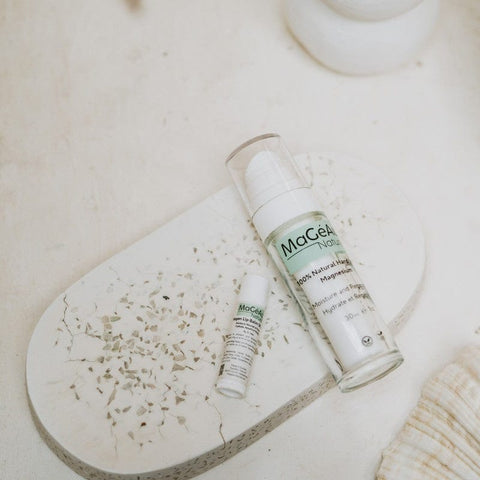 Hand Lotion & Lip Balm Set
Pamper your hands Today with our European Liquid Soap and Hand Lotion duo.
Show more
Transform your hands from dry and wrinkled to shine, glow, and soft with our non-greasy Hand Lotion and Lip Balm. If your chapped lips often need extra care, moisturizer, and protection, then you'll love our MaGéAu Naturel Vegan Lip Balm SPF30.

Love your skin, naturally! Treat your lips with plant-based hydration that heals chapped lips and cracks and soothes your smile.

Experience the benefits of our hand lotion and lip balm combo for ultimate skincare. Keep your hands and lips nourished and protected with our natural products.
Ingredients
Ingredients Of Hand Lotion:
Magnesium ChlorideButyrospermum Parkii Butter, Shea ButterAqua,
WaterTheobroma Cacao Butter, Cocoa ButterSimmondsia Chinensis Seed Oil,
Jojoba oilAloe Barbadensis Extract, Aloe Vera ExtractPersea Gratissima
Butter, Avocado ButterCera Alba, BeeswaxCetearyl OlivateSorbitan
OlivateLactobacillus FermentChamomilla Recutita Flower Extract,
Chamomile ExtractTocopherol, Vitamin ERhus Cotinus Leaf Extract,
Smoketree ExtractNymphaea Alba Extract, White Water Lily Extract Citrus
Paradisi Seed Extract, Grapefruit Extract.
Ingredients Of Lip Balm:
Theobroma Cacao Butter, Cocoa ButterButyrospermum Parkii Butter, Shea
ButterCandelilla Cera, Candelilla WaxOlea Europaea Seed Oil, Olive
OilRubus Idaeus Seed Oil, Raspberry OilZinc OxideTocopherol, Vitamin
EStevia Rebaudiana Extract, Stevia ExtractPistacia Lentiscus Gum, Mastic
Shipping
There are no extra fees to pay for taxes, except for Switzerland (7%) and the United Kingdom (20%).
Shipping is only available within European countries due to sustainability reasons and to reduce CO2 production.
If your order is above 60 CHF, it qualifies for free shipping and will be processed as soon as possible.
If you receive a damaged parcel, please contact customer service.
Returns are accepted and a return sticker is provided upon delivery to send back the item for free.
Prices are listed in euros, inclusive of taxes (except for the UK and Switzerland). If you have any questions or need assistance, please contact our customer service by visiting our contact page.



Amazing hand cream and lip balm!
I really like the unique style of your product and design. It is actually very good idea to use directly on skin, for people who are deficient in Magnesium to absorb it by using hand cream.
Best,
Marrium
Duo parfait
J'ai adoré ces deux produits naturels et bio ils sont devenus incontournables pour moi. Et leurs odeurs merveilleuses j'adore.
Un set davvero indispensabile!
Davvero un set indispensabile per affrontare al meglio la stagione fredda! Mani e labbra sono sempre esposte e hanno entrambe bisogno di cure specifiche!
La lozione per le mani è davvero favolosa! Fin dal primo utilizzo ho notato che ristabilisce l'idratazione rendendo le mani veramente morbide e nutrite in profondità ( d'inverno ho le mani veramente molto secche) . E nel mio caso è davvero raro trovare una crema nutriente e riparatrice, che doni sollievo fin dal primo utilizzo senza ungere! La texture ultra-leggera si fonde sulla pelle senza lasciare residui oleosi. Davvero una lozione mani essenziale per idratare, lenire e proteggere! Mi piace il packaging, ha quel tocco elegante e di classe che mi si addice proprio!
Il burrocacao rende le labbra morbide e lisce, idratando a fondo una zona che è facile alle screpolature. È davvero un piacere farlo scorrere sulle labbra! Peccato che il packaging è davvero molto cheap…
Fantastico set
Questo set è proprio indispensabile per l'arrivo dell'inverno! Sto amando entrambi i prodotti per la loro efficacia.
La crema mani non solo rende le mani morbide per tutta la giornata, ma va anche a riparare e a rigenerare la pelle. Apprezzo molto che si asciughi in fretta e non che lasci le mani unte, così da poterla utilizzare durante la giornata.
Il balsamo labbra rende le labbra morbissime e le protegge dal freddo e dall'esposizione al sole.
La profumazione alla lavanda è molto delicata e si sente solo all'applicazione, ma non rilascia alcun sapore in bocca.
Ottima fragranza
Mi piace molto questo set , indispensabile soprattutto per il periodo invernale alle porte. Ho le mani e le labbra che si screpolano facilmente quindi ho bisogno di prodotti efficaci. La crema mani è molto corposa , si assorbe facilmente, basta poco prodotto. La fragranza ottima . Idrata benissimo.
Nourish your skin withNatural Ingredients
At MaGéAu Naturel, we are committed too using only the finest natural ingredients in our skin care products. Our hand lotion and lip balm are crafted with a blend of nourishing ingredients such as shea butter, cocoa bur, avocado butter, jojoba seed oil. aloe vera extract, and beeswax, We also include ingredients like chamomile flower extract, white water lily extract, and grapefruit seed extract to soothe and protect your skin.
Achieve Radiant skin with MaGéAu Naturel
Our natural and vegan formula is designed to give you radiant and youthful-looking skin. Infused with magnesium chloride, Rhus Cotinus leaf extract, and vitamin E, our hand Lotion and lip balm revitalizes tired and guided by the objective to help your skin glow with our 100% naturalskin, leaving it feeling soft, smooth, and hydrated all day long. Say goodbye to dry and uneven skin texture and hello to a fresh, supple, and glowing complexion with MaGéAu Naturel.