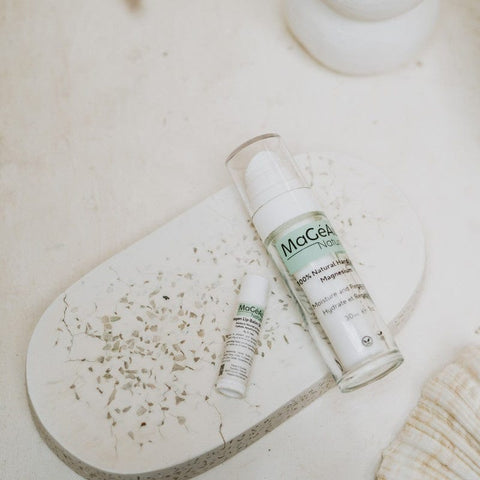 Set hand lotion & lip balm
Show more
Transform your hands from dry and wrinkled to shine, glow, and soft with our non-greasy Hand Lotion and Lip Balm. If your chapped lips often need extra care, moisturizer, and protection, then you'll love our MaGéAu Naturel Vegan Lip Balm SPF30.

Love your skin, naturally! Treat your lips with plant-based hydration that heals chapped lips and cracks and soothes your smile.

Experience the benefits of our hand cream and lip balm combo for ultimate skincare. Keep your hands and lips nourished and protected with our natural products.
Ingredients
Ingredients Hand Lotion:
Magnesium Chloride
Butyrospermum Parkii Butter - Shea Butter
Aqua - Water
Theobroma Cacao Butter - Cocoa Butter
Simmondsia Chinensis Seed Oil - Jojoba oil
Aloe Barbadensis Extract - Aloe Vera Extract
Persea Gratissima Butter - Avocado Butter
Cera Alba - Beeswax
Cetearyl Olivate
Sorbitan Olivate
Lactobacillus Ferment
Chamomilla Recutita Flower Extract - Chamomile Extract
Tocopherol - Vitamin E
Rhus Cotinus Leaf Extract - Smoketree Extract
Nymphaea Alba Extract - White Water Lily Extract
Citrus Paradisi Seed Extract - Grapefruit Extract
Ingredients Lip Balm with 30 SPF:
Theobroma Cacao Butter - Cocoa Butter
Butyrospermum Parkii Butter - Shea Butter
Candelilla Cera - Candelilla Wax
Olea Europaea Seed Oil - Olive Oil
Rubus Idaeus Seed Oil - Raspberry Oil
Zinc Oxide
Tocopherol - Vitamin E
Stevia Rebaudiana Extract - Stevia Extract
Pistacia Lentiscus Gum - Mastic
Shipping
There are no extra fees to pay for taxes, except for Switzerland (7%) and the United Kingdom (20%).
Shipping is only available within European countries due to sustainability reasons and to reduce CO2 production.
If your order is above 60 CHF, it qualifies for free shipping and will be processed as soon as possible.
If you receive a damaged parcel, please contact customer service.
Returns are accepted and a return sticker is provided upon delivery to send back the item for free.
Prices are listed in euros, inclusive of taxes (except for the UK and Switzerland). If you have any questions or need assistance, please contact our customer service by visiting our contact page.



IN LOVE
I really liked both products. The lip balm leaves you with a beautiful shine and your lips hydrated for hours. I love the hand cream, it has a very good smell and its texture is super soft. Without a doubt, I would repeat the purchase again!!
Piacevole ed elegante
Dire che fa il suo lavoro è il minimo, ma apprezzo molto il fatto che non lascia la pelle unta, si assorbe molto facilmente e da ottimi risultati anche nei piedi. La confezione inoltre da al mio set di cura personale un tocco di luxury che amo.
Hand lotion and lip balm
I love this products! They're perfect for my skin and I love that fact that the hand lotion pack is refill.
In love 😍
All summer I used hand cream and lip balm.
I'm finding it great, the cream dries very quickly and doesn't become sticky, I always carry it with me in my bag.
I always keep the lip balm in my pocket because it's small and super comfortable.
My lips are always hydrated.
In these days the weather has changed and for the first time I don't have chapped hands and dry lips, I love these products they are fantastic 😍
Nourish your skin withNatural Ingredients
At MaGéAu Naturel, we are committed too using only the finest natural ingredients in our skin care products. Our hand lption and lip balm are crafted with a blend of nourishing ingredients such as shea butter, cocoa bur, avocado butter, jojoba seed oil. aloe vera extract, and beeswax, We also include ingredients like chamomile flower extract, white water lily extract, and grapefruit seed extract to soothe and protect your skin.
Achieve Radiant skin with MaGéAu Naturel
Our natural and vegan formula is designed to give you radiant and youthful-looking skin. Infused with magnesium chloride, Rhus Cotinus leaf extract, and vitamin E, our hand cream and lip balm revitalizes tired and guided by the objective to help your skin glow with our 100% naturalskin, leaving it feeling soft, smooth, and hydrated all day long. Say goodbye to dry and uneven skin texture and hello to a fresh, supple, and glowing complexion with MaGéAu Naturel.