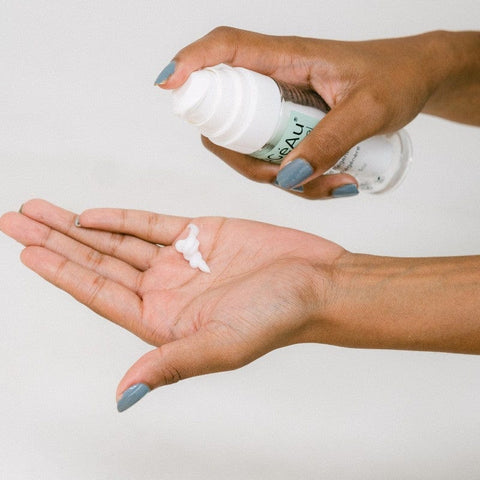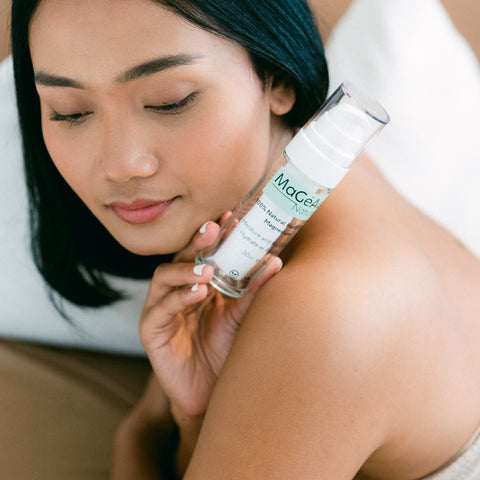 100% natural hand lotion
Show more
Transform your dry hands with MaGéAu Naturel's 100% natural hand lotion, the perfect hand cream for dry hands. Countless interactions with the world can take a toll on our hands, leaving them looking and feeling aged. That's where our specially formulated natural hand lotion comes in. Infused with magnesium, it replenishes and soothes your skin, enhancing moisture levels and protecting against rapid ageing.

Our hand lotion, known for being a good hand cream for dry hands, not only helps to maintain the health and vitality of your skin both short-term and long-term but also protects against external damage through regeneration and repair of your skin cells. You'll notice younger, hydrated, moisturized, soothed, and protected hands and nails.

MaGéAu Naturel's focus on sustainability means our products are made in Europe, with refillable and reusable packaging and labels printed directly on the product. Get our natural hand lotion for dry hands and restore the natural beauty of your skin.

Ingredients
Ingredients Hand Lotion:
Magnesium Chloride
Butyrospermum Parkii Butter - Shea Butter
Aqua - Water
Theobroma Cacao Butter - Cocoa Butter
Simmondsia Chinensis Seed Oil - Jojoba oil
Aloe Barbadensis Extract - Aloe Vera Extract
Persea Gratissima Butter - Avocado Butter
Cera Alba - Beeswax
Cetearyl Olivate
Sorbitan Olivate
Lactobacillus Ferment
Chamomilla Recutita Flower Extract - Chamomile Extract
Tocopherol - Vitamin E
Rhus Cotinus Leaf Extract - Smoketree Extract
Nymphaea Alba Extract - White Water Lily Extract
Citrus Paradisi Seed Extract - Grapefruit Extract
Ingredients Lip Balm with 30 SPF:
Theobroma Cacao Butter - Cocoa Butter
Butyrospermum Parkii Butter - Shea Butter
Candelilla Cera - Candelilla Wax
Olea Europaea Seed Oil - Olive Oil
Rubus Idaeus Seed Oil - Raspberry Oil
Zinc Oxide
Tocopherol - Vitamin E
Stevia Rebaudiana Extract - Stevia Extract
Pistacia Lentiscus Gum - Mastic
Shipping
There are no extra fees to pay for taxes, except for Switzerland (7%) and the United Kingdom (20%).
Shipping is only available within European countries due to sustainability reasons and to reduce CO2 production.
If your order is above 60 CHF, it qualifies for free shipping and will be processed as soon as possible.
If you receive a damaged parcel, please contact customer service.
Returns are accepted and a return sticker is provided upon delivery to send back the item for free.
Prices are listed in euros, inclusive of taxes (except for the UK and Switzerland). If you have any questions or need assistance, please contact our customer service by visiting our contact page.



Amazing for dry and sun damaged skin
I had very bad peeling skin from being in the sun and just after one application my skin not only felt, but also looked much smoother and softer! Very happy with the results and highly recommend! And love the smell too!
Ottima
La crema mani è ottima, si sente che é fatta con ingredienti di qualità.
Il contenitore è innovativo ed è molto utile per la salvaguardia dell'ambiente.
Amazing cream
The hand lotion has a smooth texture and a unique perfume. My hands were very dry due to my job and after a few use are now hydrated and smooth. I love the fact it is refillable and sustainable.
Superata ogni aspettativa
La crema mani e il balsamo labbra hanno superato ogni mia aspettativa. Si sente che sono fatti con ingredienti di ottima qualità.
L'idea di poter ricaricare la crema mani è innovativa e ottima per l'ambiente!
Sono diventati due prodotti indispensabili nella mia routine di bellezza!
Like a cloud
I recently had the pleasure of trying out the amazing set that includes a cocoa butter lip balm and a hand cream. Let me tell you, it's a game-changer! The Hand Lotion is truly remarkable, as it effortlessly transforms dry and wrinkled hands into a state of pure radiance, leaving them soft, smooth, and glowing. What I appreciate the most is that it's non-greasy, so I can apply it throughout the day without any residue or discomfort. The lip balm is an absolute savior for my chapped lips. It provides the perfect combination of intense moisturization and protective care
Nourish your skin withNatural Ingredients
At MaGéAu Naturel, we are committed too using only the finest natural ingredients in our skin care products. Our hand lption and lip balm are crafted with a blend of nourishing ingredients such as shea butter, cocoa bur, avocado butter, jojoba seed oil. aloe vera extract, and beeswax, We also include ingredients like chamomile flower extract, white water lily extract, and grapefruit seed extract to soothe and protect your skin.
Achieve Radiant skin with MaGéAu Naturel
Our natural and vegan formula is designed to give you radiant and youthful-looking skin. Infused with magnesium chloride, Rhus Cotinus leaf extract, and vitamin E, our hand cream and lip balm revitalizes tired and guided by the objective to help your skin glow with our 100% naturalskin, leaving it feeling soft, smooth, and hydrated all day long. Say goodbye to dry and uneven skin texture and hello to a fresh, supple, and glowing complexion with MaGéAu Naturel.