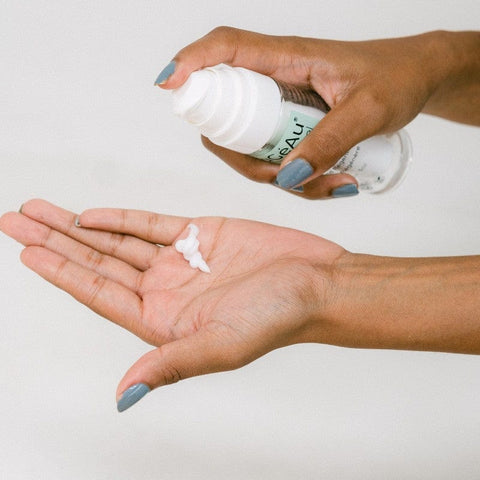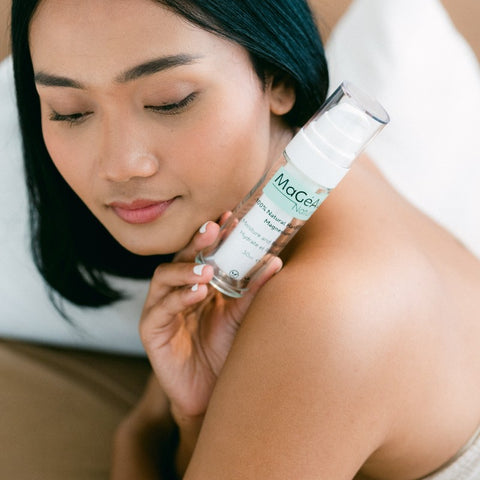 Hand Lotion
Show more
Transform your dry hands with MaGéAu Naturel's 100% natural hand lotion, the perfect hand lotion for dry hands. Countless interactions with the world can take a toll on our hands, leaving them looking and feeling aged. That's where our specially formulated natural hand lotion comes in. Infused with magnesium, it replenishes and soothes your skin, enhancing moisture levels and protecting against rapid ageing.

Our hand lotion, known for being a good hand lotion for dry hands, not only helps to maintain the health and vitality of your skin both short-term and long-term but also protects against external damage through regeneration and repair of your skin cells. You'll notice younger, hydrated, moisturized, soothed, and protected hands and nails.

MaGéAu Naturel's focus on sustainability means our products are made in Europe, with refillable and reusable packaging and labels printed directly on the product. Get our natural hand lotion for dry hands and restore the natural beauty of your skin.

Hand Lotion Ingredients
Magnesium ChlorideButyrospermum Parkii Butter, Shea ButterAqua, WaterTheobroma Cacao Butter, Cocoa ButterSimmondsia Chinensis Seed Oil, Jojoba oilAloe Barbadensis Extract, Aloe Vera ExtractPersea Gratissima Butter, Avocado ButterCera Alba, BeeswaxCetearyl OlivateSorbitan OlivateLactobacillus FermentChamomilla Recutita Flower Extract, Chamomile ExtractTocopherol, Vitamin ERhus Cotinus Leaf Extract, Smoketree ExtractNymphaea Alba Extract, White Water Lily Extract Citrus Paradisi Seed Extract, Grapefruit Extract
Shipping
There are no extra fees to pay for taxes, except for Switzerland (7%) and the United Kingdom (20%).
Shipping is only available within European countries due to sustainability reasons and to reduce CO2 production.
If your order is above 60 CHF, it qualifies for free shipping and will be processed as soon as possible.
If you receive a damaged parcel, please contact customer service.
Returns are accepted and a return sticker is provided upon delivery to send back the item for free.
Prices are listed in euros, inclusive of taxes (except for the UK and Switzerland). If you have any questions or need assistance, please contact our customer service by visiting our contact page.



Rispettosa sulla pelle sensibile
Ho provato questa crema mani non solo come hand cream ma anche come referenza sulle parti più delicate di viso e corpo e devo dire che la sua formulazione mi ha piacevolmente sorpresa. Inizialmente quando la stendo non sembra assorbire immediatamente, ma dopo pochi secondi non sembra più di averla applicata ma rimane solo una piacevole sensazione di idratazione che si prolunga nel tempo.
Mi aiuta a tenere idratata e nutrita anche la zona super sensibile naso labiale e dell'arco sopracciliare post ceretta.
Mi sarebbe piaciuta leggermente profumata, apprezzo come bellezza il flacone in vetro con possibilità di refill ma lo trovo scomodo sia da portare in borsetta che facilmente frangibile (l'ho salvato dalla catastrofe già due volte svitandosi molto facilmente). La trovo davvero una buona crema multiuso, mi sarebbe piaciuto inoltre proprio prenderla perfetta che avesse avuto anche un filtro solare fra i suoi ingredienti.
One word: WOW!!
I had the opportunity to try this Hand Lotion and the Lip Balm, and I must say it was a surprise.
First, I love the packaging! Having the ecofriendly concern aligned with skincare / quality products is a MUST!
The hand lotion has a lightweight texture and a lovely scent, and the Lip Balm is very hydrating. The perfect combo for autumn/winter.
Hands and lips smooth and moisturized! 10/10
Amazing product!
This products are mild, really moisturizing, and eco-friendly.
The product is even more lovable because it's refillable. Really satisfied.
Amazing for dry and sun damaged skin
I had very bad peeling skin from being in the sun and just after one application my skin not only felt, but also looked much smoother and softer! Very happy with the results and highly recommend! And love the smell too!
Ottima
La crema mani è ottima, si sente che é fatta con ingredienti di qualità.
Il contenitore è innovativo ed è molto utile per la salvaguardia dell'ambiente.
Nourish your skin with Natural Ingredients
At MaGéAu Naturel, we are committed to using only the finest natural ingredients in our skin care products. Our hand lotion and lip balm are crafted with a blend of nourishing ingredients such as shea butter, cocoa butter, avocado butter, jojoba seed oil, aloe vera extract, and beeswax. We also include ingredients like chamomile flower extract, white water lily extract, and grapefruit seed extract to soothe and protect your skin.
Achieve radiant skin with MaGéAu Naturel
Our natural and vegan formula is designed to give you radiant and youthful-looking skin. Infused with magnesium chloride, Rhus Cotinus leaf extract, and vitamin E, our hand cream and lip balm revitalizes tired and dull skin, leaving it feeling soft, smooth, and hydrated all day long. Say goodbye to dry and uneven skin texture and hello to a fresh, supple, and glowing complexion with MaGéAu Naturel.