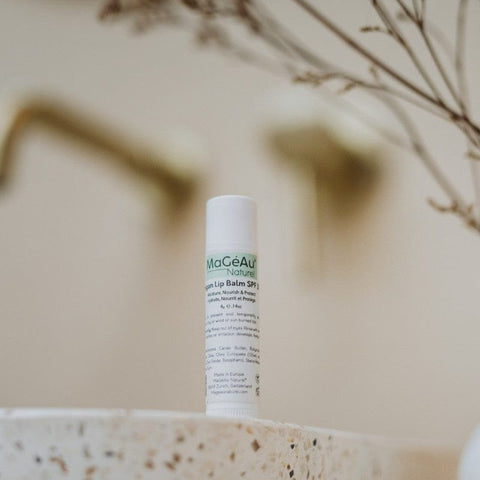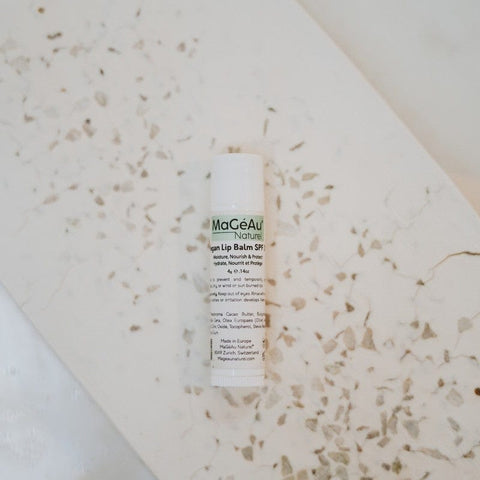 Lip Balm SPF30
Show more
Transform your dry and chapped lips with our MaGéAu Natural Vegan Lip Balm SPF30. Our plant-based hydration is designed to soothe, heal, and protect your lips from harsh weather conditions.

This 100% natural Vegan lip balm contains a blend of natural ingredients, including magnesium, to provide instant relief, nourishment, and hydration to your lips. It's completely vegan, cruelty-free, and has SPF30 to shield your lips from harmful sun rays.

Our fresh lavender scent offers a universally appealing freshness, and it's the perfect addition to everyone's daily essential list. Try our vegan lip balm, Vegan Lip Balm, today to see how it can regenerate and protect your lips, leaving them healthy, moisturised, and smooth.

Lip Balm Ingredients
Theobroma Cacao Butter, Cocoa ButterButyrospermum Parkii Butter, Shea ButterCandelilla Cera, Candelilla WaxOlea Europaea Seed Oil, Olive OilRubus Idaeus Seed Oil, Raspberry OilZinc OxideTocopherol, Vitamin EStevia Rebaudiana Extract, Stevia ExtractPistacia Lentiscus Gum, Mastic
Shipping
There are no extra fees to pay for taxes, except for Switzerland (7%) and the United Kingdom (20%).
Shipping is only available within European countries due to sustainability reasons and to reduce CO2 production.
If your order is above 60 CHF, it qualifies for free shipping and will be processed as soon as possible.
If you receive a damaged parcel, please contact customer service.
Returns are accepted and a return sticker is provided upon delivery to send back the item for free.
Prices are listed in euros, inclusive of taxes (except for the UK and Switzerland). If you have any questions or need assistance, please contact our customer service by visiting our contact page.



Una vera e propria maschera labbra di bellezza
Mi piace tantissimo la texture fondente e super burrosa di questo lip balm che sto usando la notte come vera e propria maschera di bellezza sulle mie labbra secche e spesso soggette a piccoli taglienti o abrasioni (per il freddo, per le pellicine o causa uso di tinte labbra che seccano troppo).
Ha davvero una bella resa e la mattina le mie labbra appaiono come rinate, rimpolpate e prive di qual si voglia segno di secchezza. Il fattore di protezione solare lo rende poi super adatto all'utilizzo quotidiano in esterno, soprattutto se non applicate rossetti che hanno già questo tipo di protezione.
Devo dire però che non mi piace lo stick, lo trovo davvero molto basico e all'interno tende a rompere il prodotto oltre al fatto che va tenuto davvero lontano da qualsiasi minima fonte di calore, ad esempio non riesco nemmeno a tenerlo in tasca dei pantaloni, altrimenti si scioglie e quando lo applico si rovina e rilascia troppo prodotto.
Valido prodotto
L'ho usato da subito, ne ho provati tantissimi ma questo idrata molto e profuma. Ormai lo uso sempre
Perfecto
Un bálsamo que realmente funciona, repara los labios de verdad y los deja muy suaves e hidratados.
Your lips need SPF too
I've been using this lip balm for a few days now and I've to say it works so well with my lipsticks. I no longer have dry lips when I'm out in the sun for too long. I recommend trying it out and you'll see the difference yourself.
Super contente du baume à lèvres
Super contente du baume à lèvres
Il hydrate super bien
On sent bien l efficacité du produit
Je le recommande fortement
meilaniie
Nourish your skin with Natural Ingredients
At MaGéAu Naturel, we are committed to using only the finest natural ingredients in our skin care products. Our hand lotion and lip balm are crafted with a blend of nourishing ingredients such as shea butter, cocoa butter, avocado butter, jojoba seed oil, aloe vera extract, and beeswax. We also include ingredients like chamomile flower extract, white water lily extract, and grapefruit seed extract to soothe and protect your skin.
Achieve radiant skin with MaGéAu Naturel
Our natural and vegan formula is designed to give you radiant and youthful-looking skin. Infused with magnesium chloride, Rhus Cotinus leaf extract, and vitamin E, our hand cream and lip balm revitalizes tired and dull skin, leaving it feeling soft, smooth, and hydrated all day long. Say goodbye to dry and uneven skin texture and hello to a fresh, supple, and glowing complexion with MaGéAu Naturel.